---
Golf Promotions Massachusetts
DENIES FIRST CLAIM EVER
Pine Valley Golf Club
Hole in 1 Prizes
---
---
HIO International
Denies SUV
to Chalmers FORD
New Mexico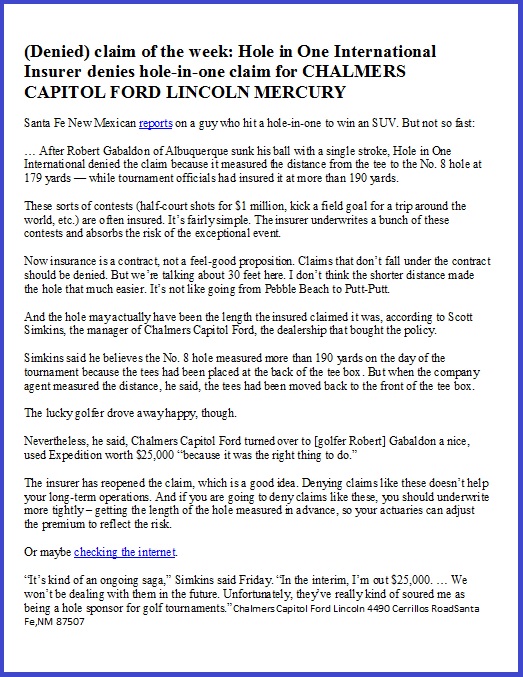 ---
---
Daughter & Father Steals
over $40,000 from another
Hole in One Company

---

ABC News More Fraud
due to Economy


---
Swan-e-set Bay Resort British Columbia
has $54,000 Hole in One Breach over
Jeep Cherokee


---

INCORRECT forms
lose golfer $33,000 CAR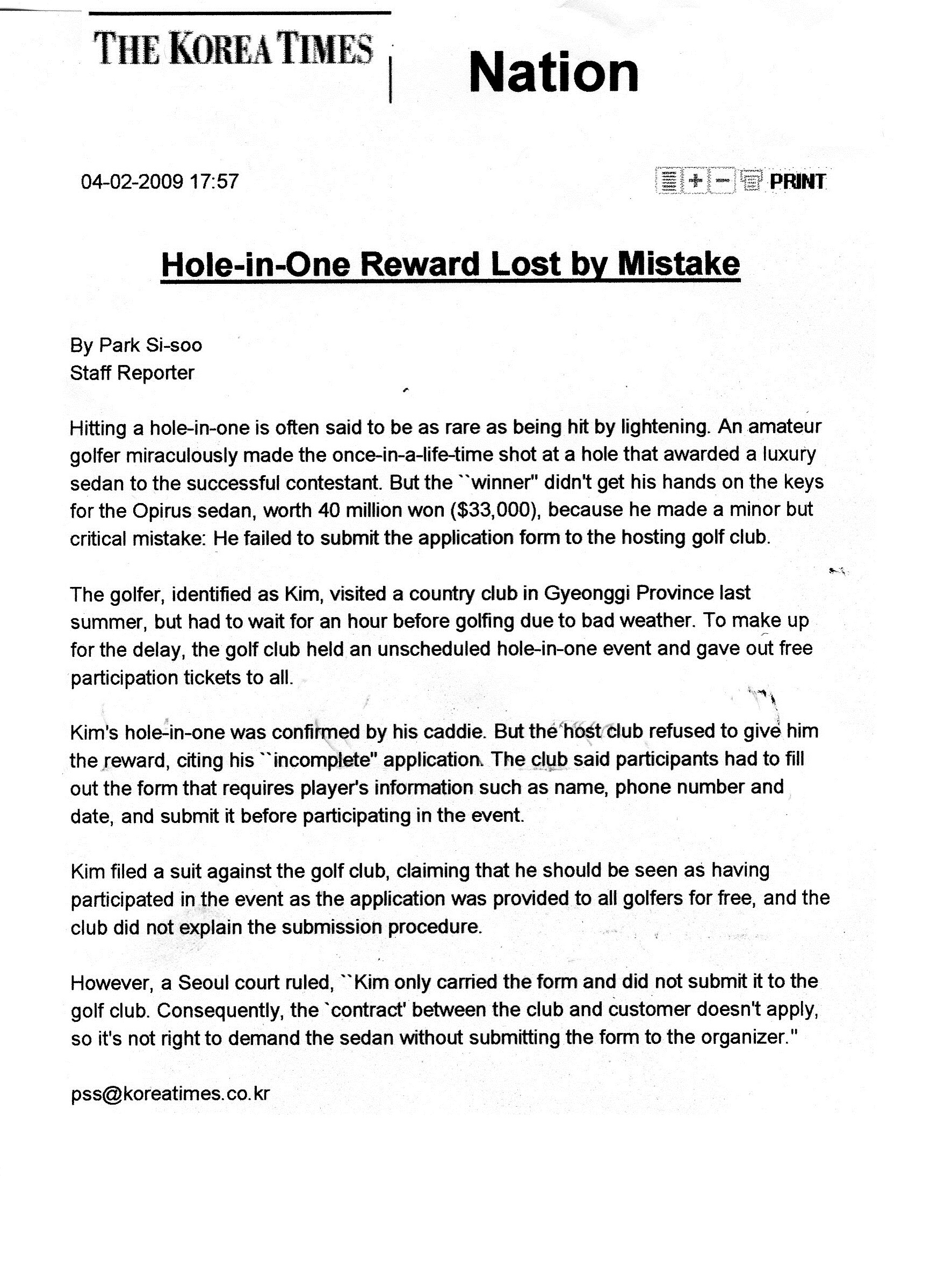 ---


Hole in One Clearing House Complaint
Report # 2 of many
Filing False Reports Against Other
Hole in One Companies


---
Protest for and against
Basketball half-court shot
contest winner
in claiming his prize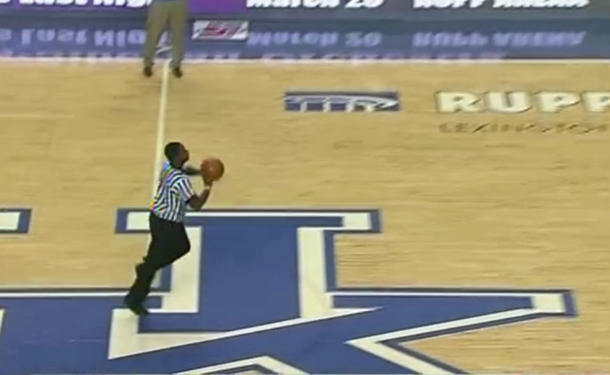 ---

Contestant Steps on Line
Rules Violation Basketball shot
by Connecticut Contest maker
& Chevrolet Dealer in claim Dispute for prize


---
3 Golf Companies Foul Up Putting Contest and Insurance Prize of $10,000 at the Largest Golf event the World Pro-Am Myrtle Beach
Inexperienced company US Hole in One Surebet & Links Worldwide became quickly aware of the Nuances of Putting
Contest Insurance and HAD TO SHUT the event down for over 5,000 golfers denying golfers an opportunity to win

SureBet -- INEXPERIENCED
Putting Contest Insurer
rules fine print at the World Golf Myrtle Beach


---

DUPONT World AM
Largest Golf Event
Denied $10,000 Putting Contests by


---

LINKS WORLDWIDE
DURING THE MIDDLE OF THE GOLF EVENT
Realizing they contracted the event Improperly !


---
US Hole in One
Partner Backer Bankrupcy
Financial Stress D n B Report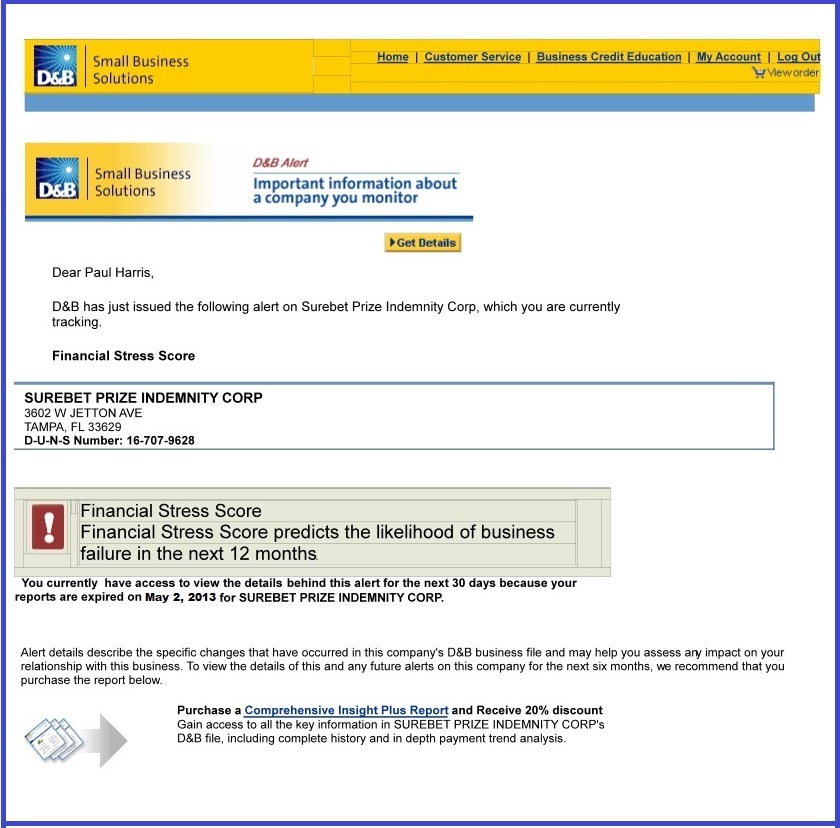 "
---
FOUR (4) HIO companies




Denied their

FIRST Claim EVER
---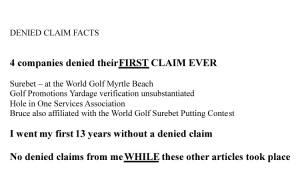 LARGEST $150,000.00 CASH




NON PAYMENT by Hole in One Clearing House Dennis Chase




LAWSUIT CASE CHICAGO
---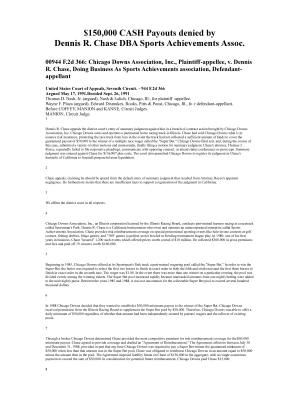 Half court basketball shot gone wrong
NO INSURANCE PURCHASED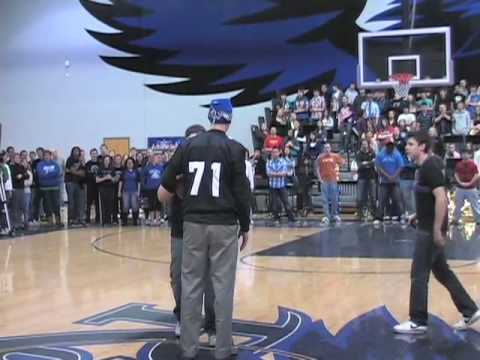 ---
Hole in One Clearing House Swindle Alert Dennis Chase Reno Nevada

---

CONNECTICUT Hole-in-One Charity Sponsor Fails To Deliver


---
Rotary club of Shepardstown WV
improperly sets up a
Hole in One contest

---
Harry Robinson Buick
Buford Distributing
Dispute

---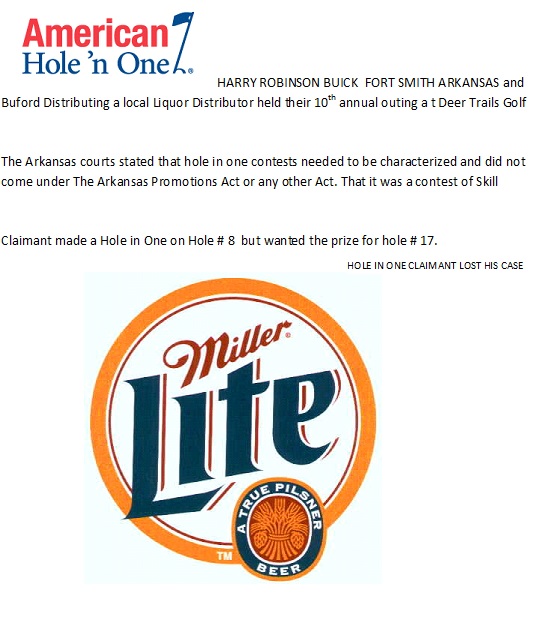 Mayor sued over $10,000 Hole in One
at his own tournament Fundraiser
When golfer uses a Mulligan

---

Faribault Hockey Association (FHA) Fails To Deliver Prize in Hockey Contest


---

When a Ford dealership and Golf Digest Planner insurer stiff a charity golf tournament player


---

CT Post Connecticut Insurance Commissioner Office
Hole in One mishaps Topix


---

Hole in One USA Case




Ford Dealer and Winner




Do Not get Paid Director ends up in Court
---
UPDATE 7 Hole in One Companies




Deny their VERY




First Hole in One claim
---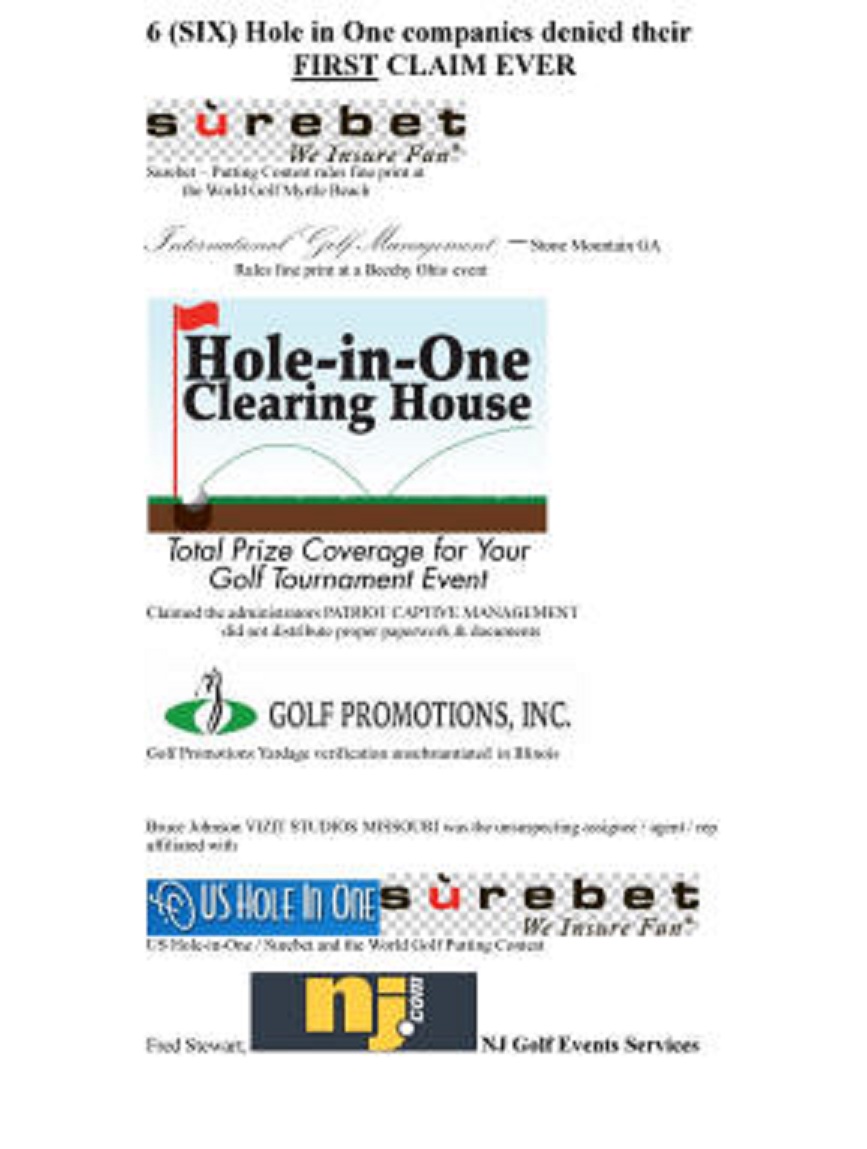 Eyewitness 7 News US Hole in One




Pennsylvania denies Daytona Beach $10,000 prize




with improper sub contractors
---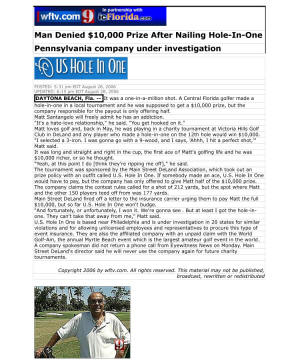 Cheating going on in the
(sports) . . . THE culture is Epidemic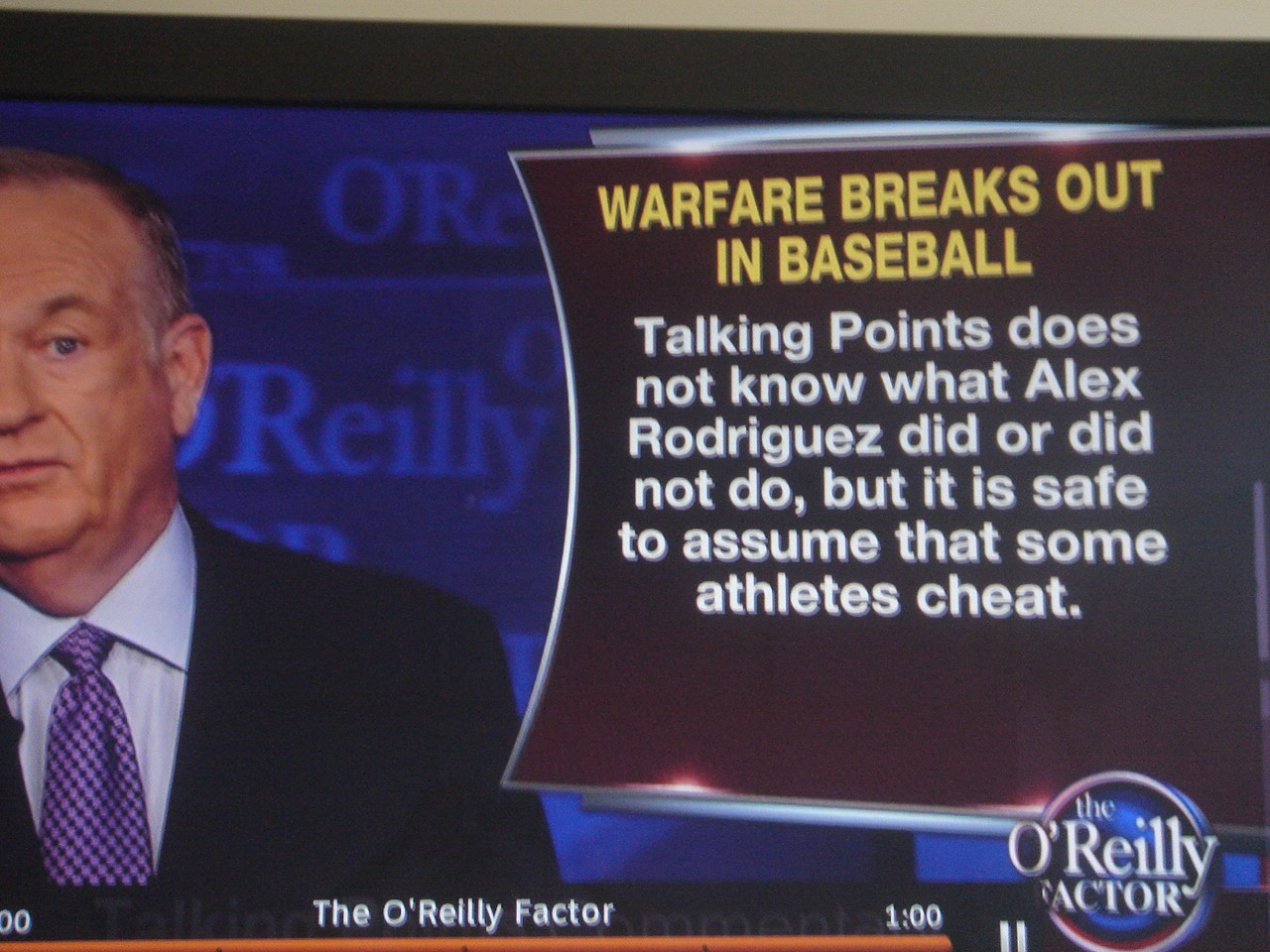 ---
HIOCH Screw You Hole in One Clearing House Dana Point CA Fraud Dennis Chase

---
9-11 Firemen Benefit
Does NOT purchase
Hole-in-One coverage
---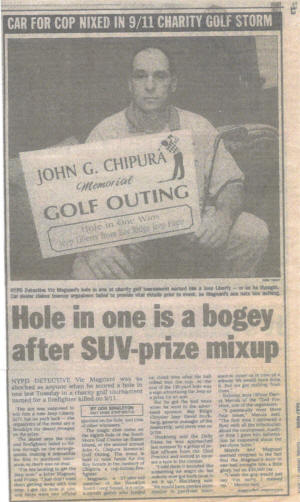 Then there would be NO GAME if we Just let em have it 2013-09-24 10.29.18


---

Man turns down Porsche for a Hole in One


---

Dealer fails to buy "Hole in one" insurance and reneges on prize



---

NOTICE part a:
ANY PERSON WHO, KNOWINGLY OR WITH INTENT TO DEFRAUD OR TO FACILITATE A FRAUD AGAINST ANY INSURANCE COMPANY,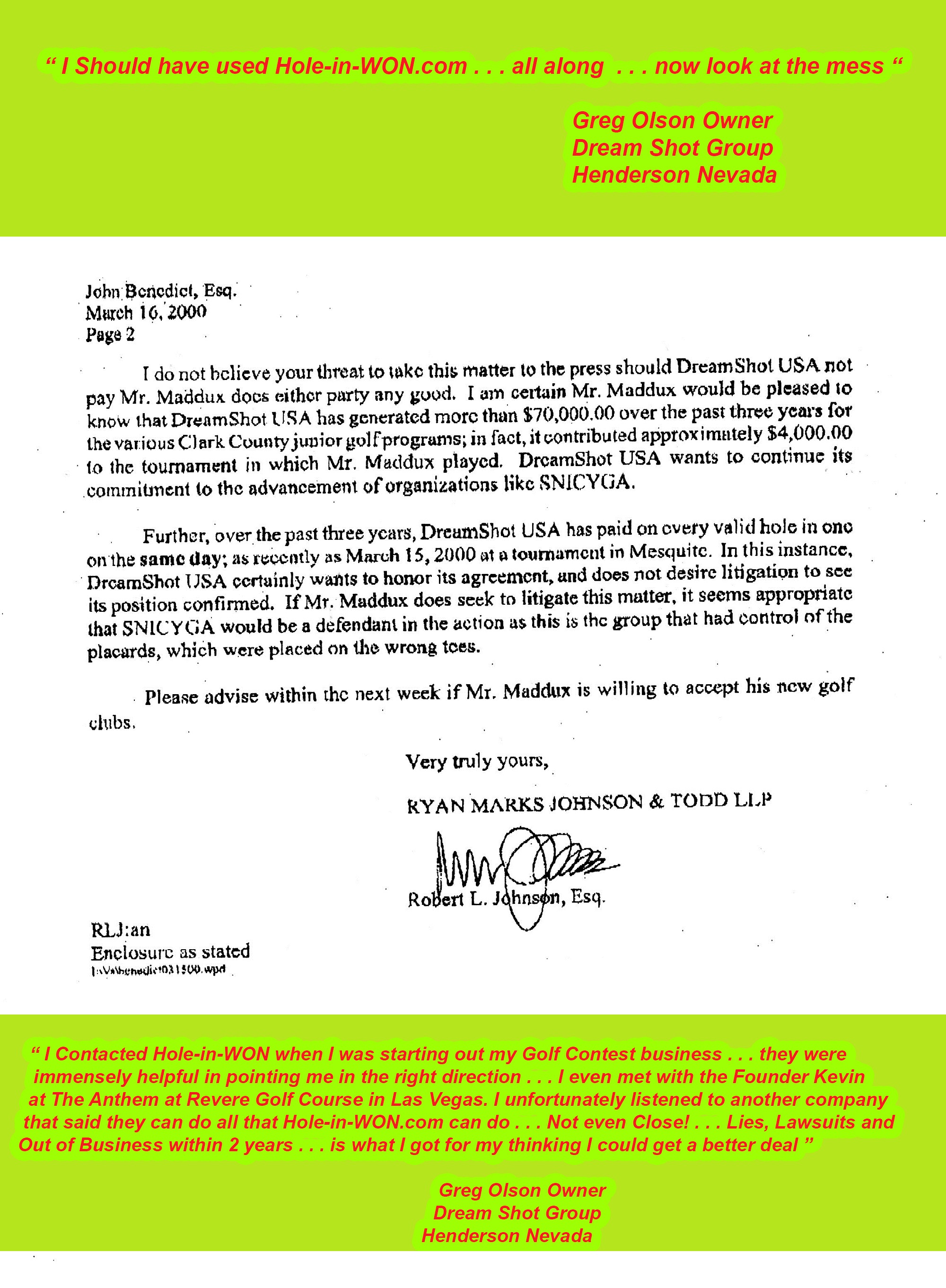 ---

NOTICE part b:
COMPANY OR OTHER PERSON, SUBMITS AN APPLICATION OR FILES A CLAIM FOR INSURANCE OR INDEMNIFICATION CONTAINING FALSE,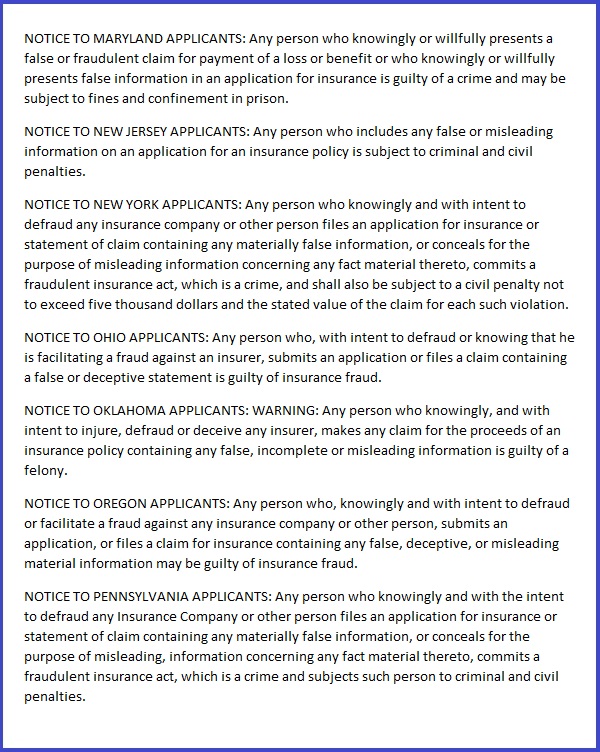 ---

NOTICE part c:
DECEPTIVE OR MISLEADING INFORMATION MAY BE GUILTY OF INSURANCE FRAUD AND OR FELONY LARCENY.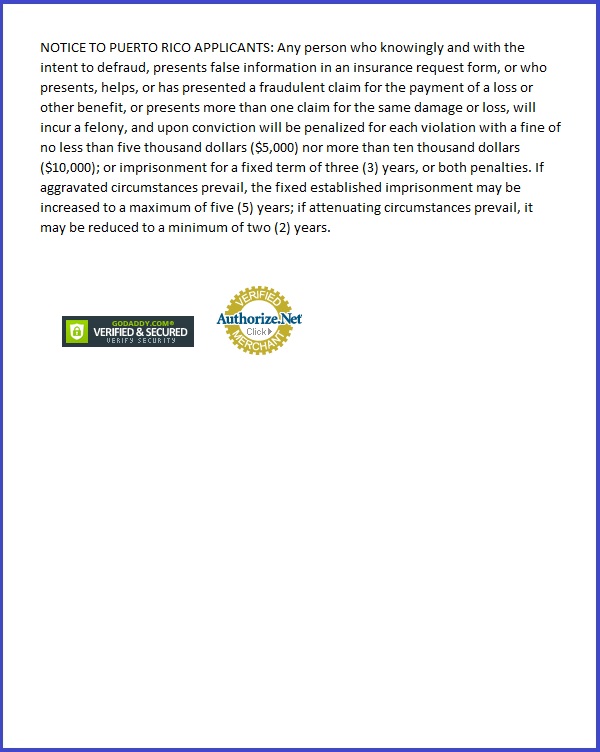 ---

NJ Golf Event Moves $20,000.00 Hole in One numerous times ends up on proper hole for Teeing Off But Improper Hole for Golfer who Aces Original Hole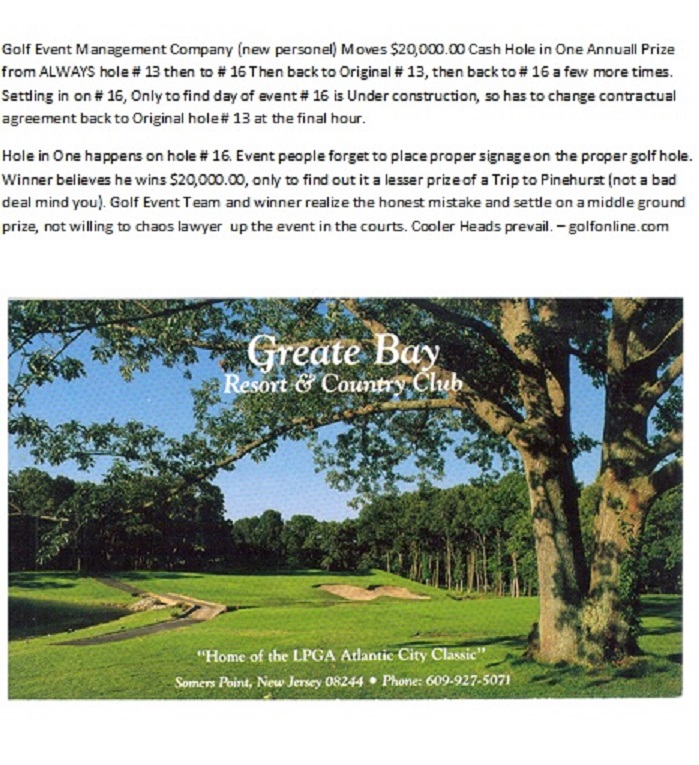 ---

Alex Rodriguez Hit By Pitch Discussed by Bernie Goldberg with Bill O'Reilly - 'The Factor'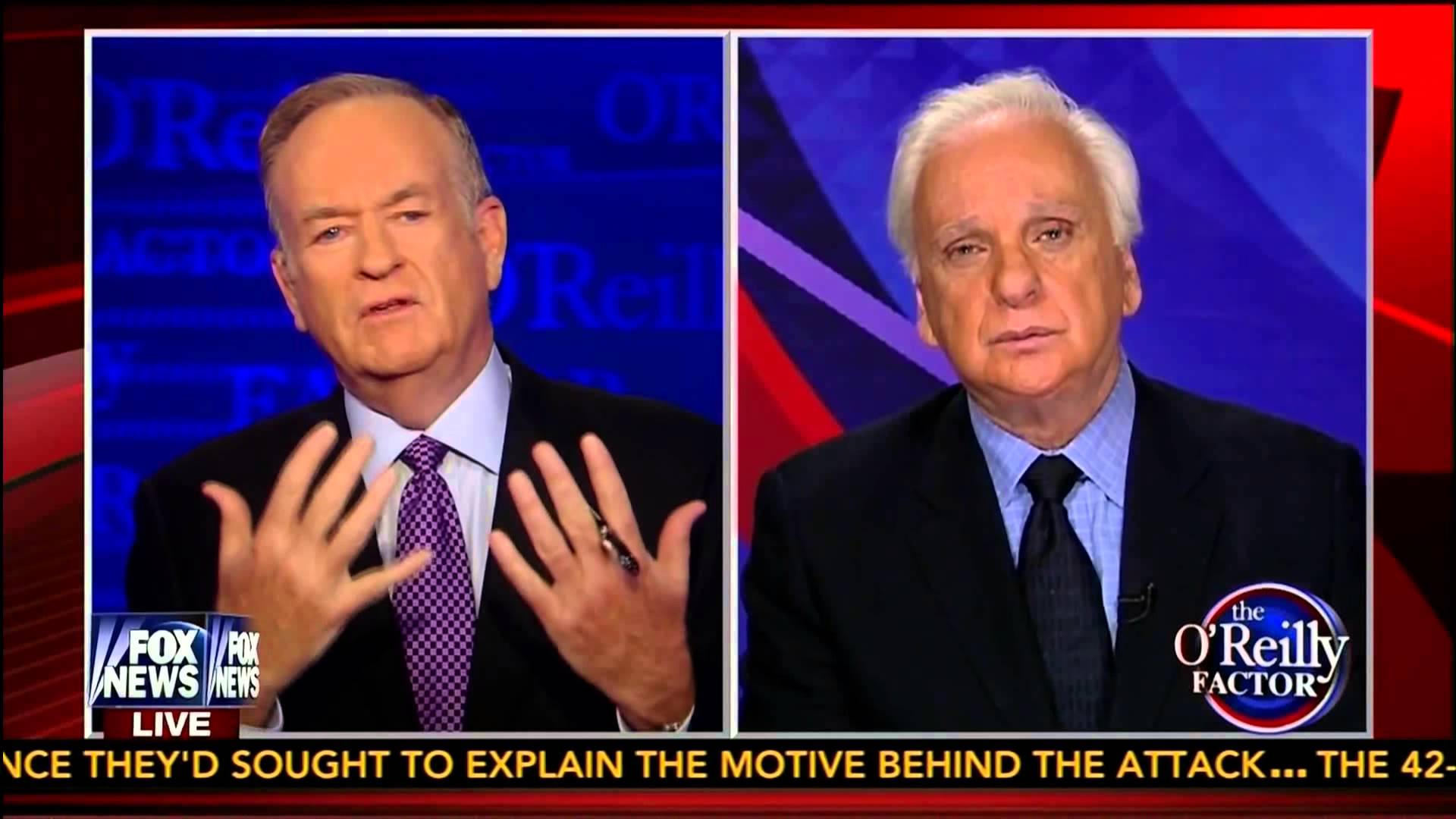 ---

Wheel of Fortune Contestant Misses 1 Million Prize by Not Following Rules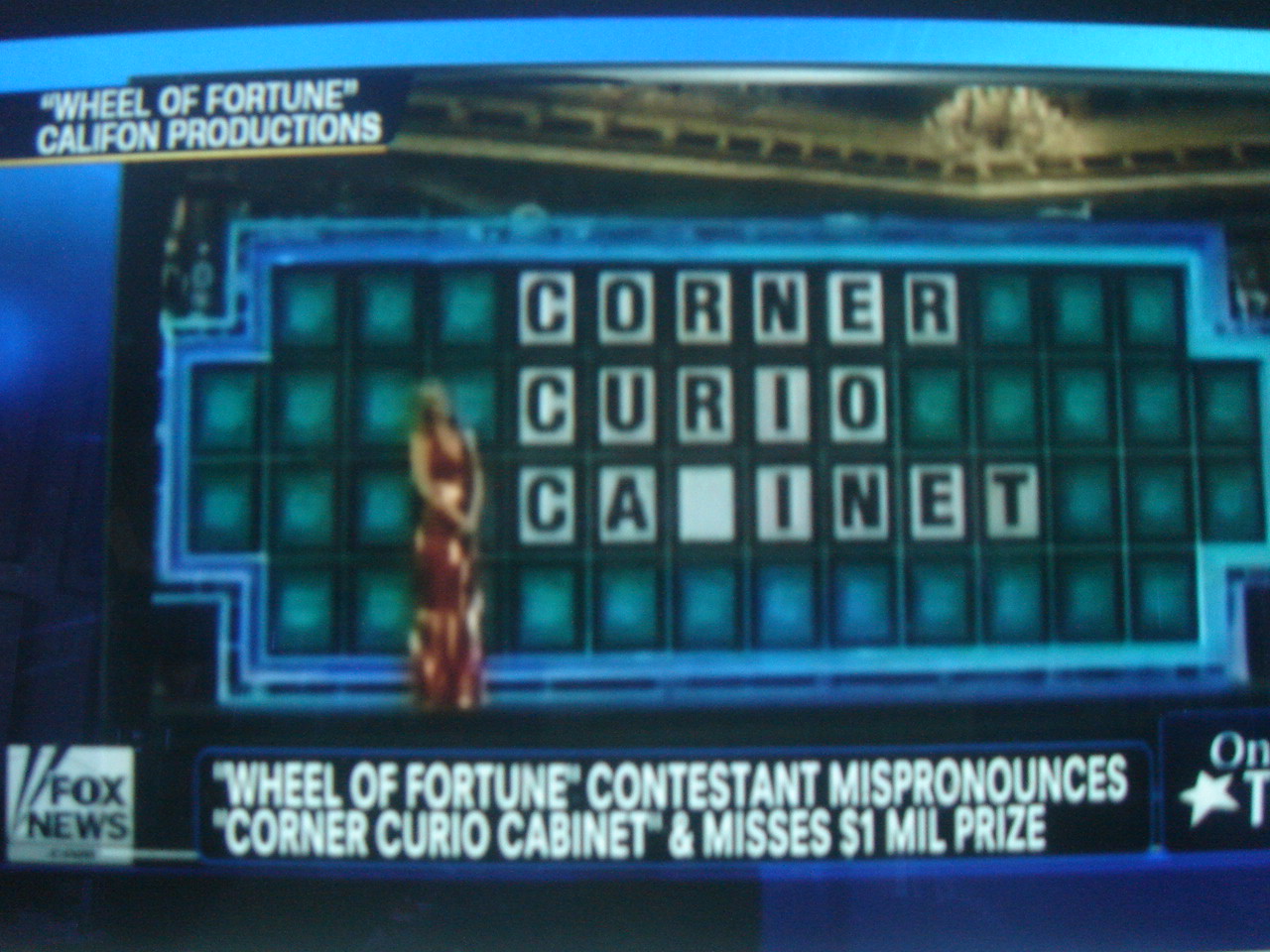 ---

Charity Golf Benefit Fails to purchase Insurance for well known Tough hole
# 9 200 yards Winner Makes Hole in One loses Car


---

Golf Digest Planner Redemption Promotion Mistake



---

Rules are Rules . . . Wheel of Fortune Game Show denies 1 million prize claim


---

"America is exceptional because it has a RULES book" . . . Stu Varney Fox Financial news contributor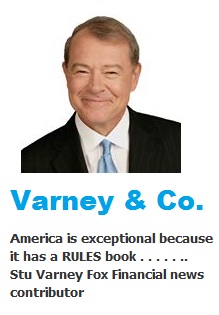 ---

Hole in One Clearing House RipOff Report Lawsuit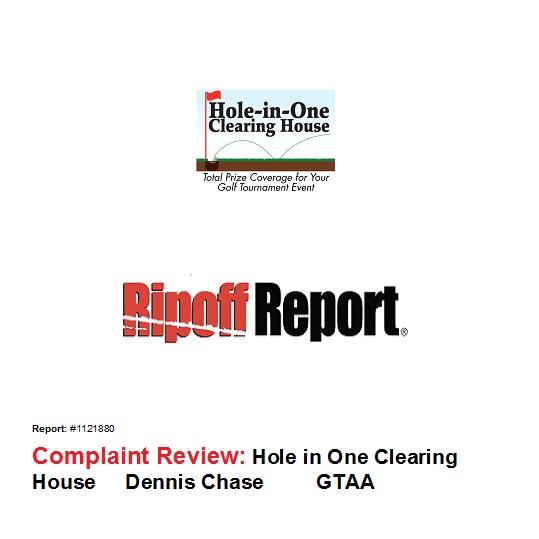 ---

Golf Tournament Association of America
Car Hole in One
Georgia Case (cont.)


---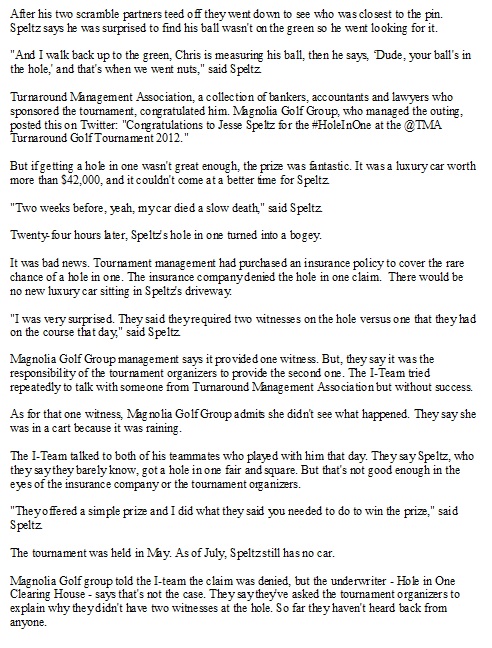 FOX NEWS TAMPA BAY
Golfer does Not get new $42,000 car
from Hole in One Clearing House GTAA

---

Not the first time Wheel of Fortune follows the rules and denies a Prize Claim


---
Santa Fe New Mexico
City Government
Contractual dispute over Short Yardage Hole in One

---