Wedding Planner

WEDDING CONTEST INSURANCE
WEDDING PROMOTION INSURANCE
BOUQUET TOSS PRIZE INSURANCE
Win an Exotic Honeymoon
Contest is Always a BLAST Plus ROI

203-831-0600
203-831-0642

---
for 30+ Years from Conceptual Idea to Completion

In addition to our diversified Hole-in-One Insurance and Putting Contest Insurance Competition
Prize Options for ALL golf events
Hole-in-Won.com provides prize insurance on ALL Other Sports and Advertising Promotions.

Like . . . TOSS the BOUQUET and WIN an EXOTIC HONEYMOON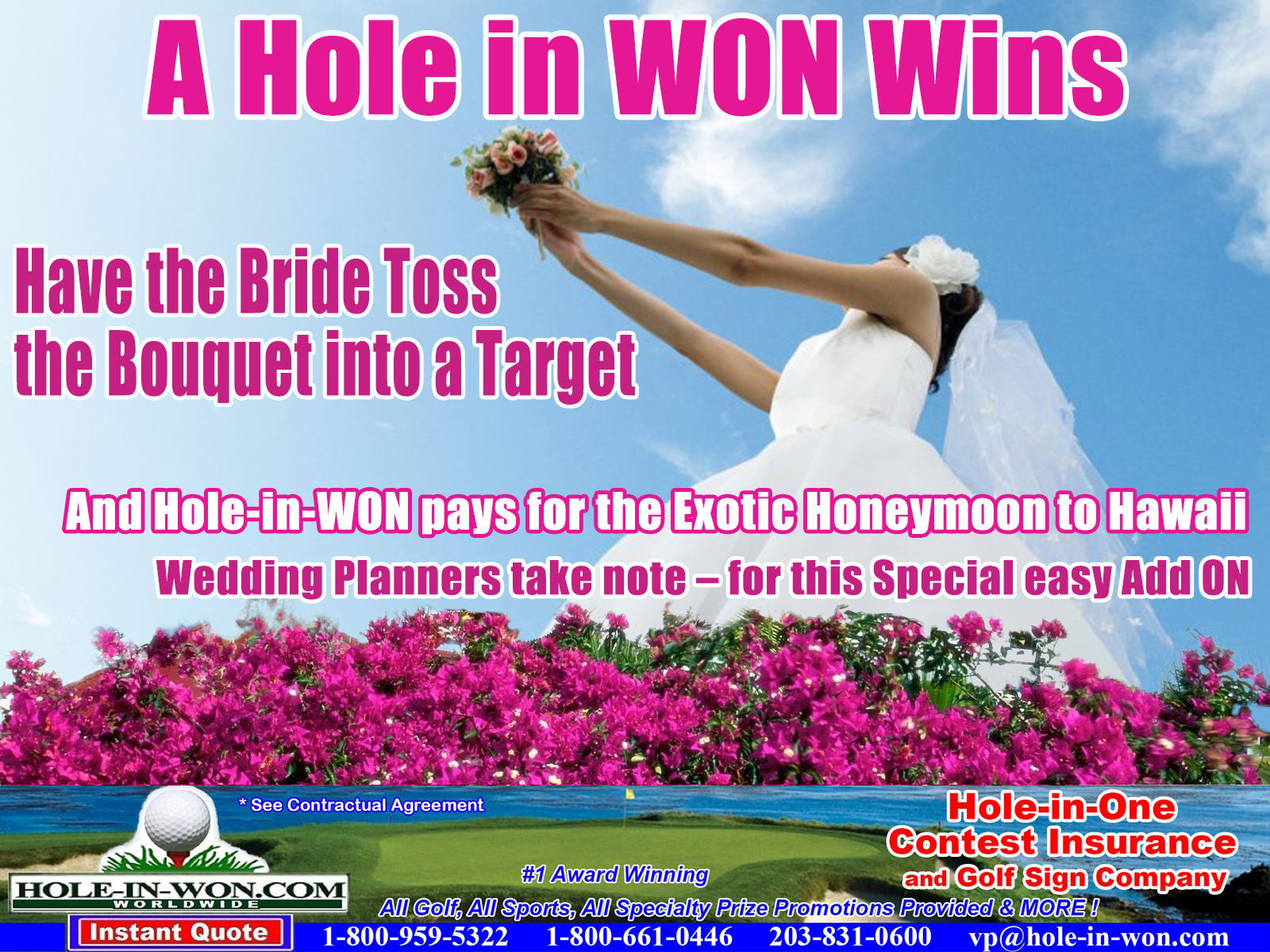 Hole-in-WON has been approached to Prize cover everything from
Hot Air Balloon - Archery
BBQ Cook Offs - Professional Bull Riders - Long Range Shooting (Sniper)
- Disc Golf - Equestrian - NASCAR - Direct Mailers - ALL Fishing Tournament Tagged Fish Record Catch Promotions
to contests for guessing the correct number of Pizza Toppings for Pizza Hut
Digital Contest Adds with Facebook - VIN # Match - Dice Rolls with Harley-Davidson
- NY Yankees - Atlanta Hawks - LA Lakers - Boston Bruins - NY Jets - St Johns U - U of Idaho and MANY MORE
to ping-pong balls inside a Chevy Truck - Cranberries in side a Hot Tub
to Radio Contests - Speciality Store Promotions - and Every variety of Trade Show Booth grabber

Hole-in-WON provides a BOUQUET TOSS Turnkey HONEYMOON program
and any type of Customized Contest Insurance for ANY Wedding Contest or Wedding Promotion.

Most Contests and Promotions have already been designed and are EXCLUSIVE to our Firm.


---
and Remember
Hole-in-Won.com is the # 1 Contest Insurance Company in the USA and WorldWide.
Contest Ideas - Promotion Ideas - Prize Ideas from Concept to Completion Preferred Pricing.
---